This 6 Days Rwanda Wildlife Safari Experience gives a traveler an exhilarating safari experience in the wilderness with game drives in Akagera national park, primates trekking in Nyungwe Forest national park, and an ultimate gorilla tracking adventure in Volcanoes National Park. Enquire Now On this 6 Days Wildlife Safari in Rwanda, you will visit Musanze for an unforgettable gorilla trekking experience in Volcanoes National Park, then later be driven to the Akagera national park, the only Savannah park in Rwanda hosting a number of big mammals including the Lions, Buffaloes, Giraffes, Zebras, and Hippos which will provide for great photographic moments. You will end your 6 Days Rwanda Wildlife Safari with chimpanzee tracking experience in Nyungwe Forest National Park.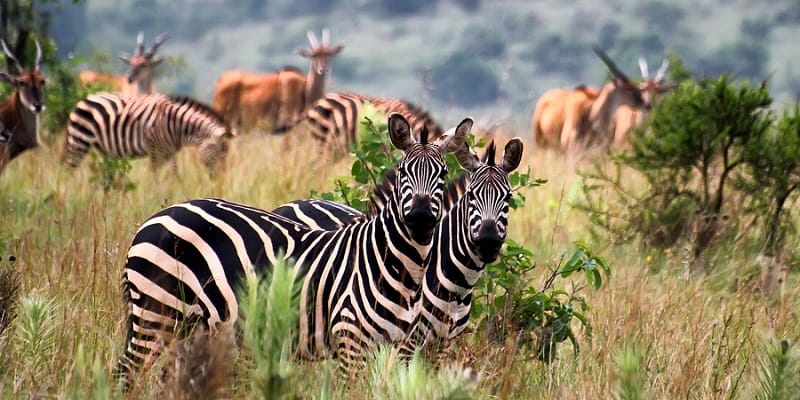 Tour Highlights of Your 6 Days Wildlife Safari in Rwanda
6 Days Akagera Wildlife Safari Itinerary
Day 1: Arrival at Kigali International Airport for the 6 Days Rwanda Wildlife Safari Experience
This is your first day of the 6 Days Rwanda Wildlife Safari tour package. Upon arrival at the airport, you will be warmly welcomed by a tour guide from Silverback gorilla tours to connect you with the hotel in Kigali where you will have a moment of relaxing and lunch in the afternoon. In the evening, you will then opt for an enjoyable Kigali city tour experience. Stopover at the genocide memorial sites and other places of interest. Dinner and overnight at the hotel.
Day 2: Transfer to Volcanoes National Park in Musanze
Very early in the morning at 4:30 am, you will pack up your breakfast then embark on a 2 hours journey to Musanze District north of Kigali City. At about 7:00 am, you will arrive at the park headquarters for a briefing about the gorilla trekking adventure before hiking into the jungles of Volcanoes National park to trek for the gorillas. You will have this whole day dedicated to tracking the gorillas since it is quite hard to predict how long it may take you to reach a group of gorillas. For conservation purposes, you will be entitled to only one hour to be with the gorillas allowing to take photos of these mighty giants of the mountains. After seeing the gorillas, return to your hotel for relaxation, dinner and overnight at the hotel/lodge.
Day 3: Transfer to Akagera National Park
On your third day, you will drive to Akagera National Park for an afternoon game drive, to see many night birds and animals. After this, commute back for dinner and overnight at the hotel.
Day 4: Wildlife Safari Experience Akagera National Park
Wake up very early in the morning to a sumptuous breakfast and get ready to explore the Akagera national park in search of the big mammals like Elephants, Giraffes, Buffaloes, several Antelope species and recently the re-introduced Lions. Most of the gamed drives happen in the northern part of the park where we will spend the better part of the day and return to the lodge later that afternoon. Akagera national park is the biggest national park in Rwanda with beautiful scenery and landscape. With over 500 species in the park, you will have opportunities of a boat safari on Lake Ihema to watch Hippos and crocodiles in the water or by the shores.
Day 5: Morning Game Drive in Akagera, Transfer to Kigali CIty – Nyungwe Forest
This 5th day of the Rwanda wildlife safari will start with a morning game drive in Akagera National park for a close encounter with animals such as zebras, several antelope species and giraffes. After the game viewing activity, you will head back to the lodge for a transfer to Nyungwe Forest National Park through Kigali Town. This journey will take us about 5-6 hours. In the evening, you will arrive and check-in at one of the lodges at the parks for your dinner and overnight stay.
Day 6: Nyugwe Forest Primates Walk, Transfer to Kigali City & end of the 6 Days Rwanda Wildlife Safari Experience, Departure
Have the best experience on your last day of the 6 Days Rwanda Wildlife Safari with a primates walk safari in Nyungwe Forest in search of the primates. You will be accompanied by park rangers and trained guides and the experience takes about 3-4 hours before retiring to the lodge for your lunch. After lunch, take your journey back to the city for your flight departure. Optionally, you can visit the craft villages and shop around at other places with the help of the driver/ guide to buy souvenirs but this will depend on your time of departure.
That marks the end of your 6 Days Rwanda Wildlife Safari with Silverback gorilla tours.