A gorilla permit is a ticket/license issued to travellers to allow them to spend time with the gorillas on a gorilla trekking adventure in Rwanda. Rwanda gorilla permits allows to visit one habituated gorilla family and spend close to 1 hour in the presence of these wonderful giants of the wild. Gorilla trekking can only be done in only three countries in the world – Uganda, Rwanda and DR Congo in the Bwindi & Mgahinga, Volcanoes and Virunga National Parks respectively.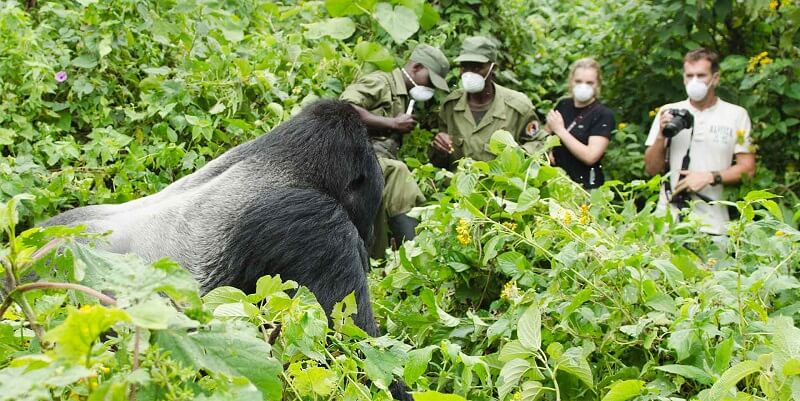 Rwanda Gorilla permits are issued by Rwanda Development Board (RDB) with over 80 gorilla permits available for issuance on a daily basis. For one to have a hassle-free experience of gorilla trekking, it is advisable that you book your gorilla permit in advance (about 3-6 months( since the demand is actually high and choosing to obtain the permit on arrival may turn out to be cumbersome. That's why we recommend that you get in touch with us to simplify the process of obtaining gorilla permits for you yet with no added and hidden costs.
How much is the cost of Rwanda gorilla permits
Gorilla permits in Rwanda cost USD $1500 and will guarantee you a full day of gorilla trekking the Volcanoes National Park. The cost previously before May 2017 was USD $750 but the Wildlife conservation body (RDB) decided to double the price in order to protect and conserve the highly endangered mountain gorillas. The Volcanoes national park is situated just two hours from the Kigali international airport and Kigali city is home to Rwanda's mountain gorillas and part of the Virunga conservation region.
Are There Restrictions on Gorilla Trekking in Rwanda?
A maximum of 8 people are allowed to trek each gorilla group per day. That restriction makes it competitive to book gorilla permits, especially during peak seasons. It is therefore necessary to book permits as early as possible. We strongly advise you book at least 3 months in advance to ensure that you can track on the requested date, especially if you plan to trek during the peak season (school holidays) or if you are in a large group.
How Can One Book for Rwanda Gorilla Permits?
If you intend to trek the gorillas in Volcanoes National Park in Rwanda, you will require a valid gorilla permit to grant you permission to see the gorillas. As mentioned earlier, Rwanda Gorilla permits can be obtained from RDB offices at the park headquarters in Kinigi. The permit will cost you only USD$1500 for every person and the offices are always from 9:00 am to 5:00 pm in the evening. You can make use of our expert tour planners to obtain the gorilla permit on your behalf. Contact us today and get your permit ready before your travel date at no extra cost. Our customer support team will do whatever it takes to check for the availability of the gorilla permits in relation to your hiking abilities and interest. Payments for the gorilla permits booking can be done through our Paypal Account or any other worldwide money transfer service. We expect you to send us your details in terms of names, passport number, and nationality since they are recorded by the RDB officials before issuing out any gorilla permit.
When to obtain the Rwanda Gorilla Permits?
There is no defined time of obtaining the gorilla permit but to avoid last minute hassles, it is advisable that you contact us in advance of your travel date so that we arrange and obtain the permit on your behalf. Rwanda is characterised with two seasons of gorilla safaris; the peak (high) and the low seasons. Make sure that you confirm and obtain your gorilla permit at least 5 months during the peak seasons while in low seasons, you can even obtain the permit on the same day of arrival at the park headquarters.
Alternatively, Travelers can book directly with the Rwanda Development Board (RDB) – tourism body of the Rwandan government.
Can I make Long Term Advance Booking?
Rwanda Development Board allows advanced booking of up to two years as long as a deposit of 30% is made and the balance shall be paid 91 days to the tracking date. Late top up of 70% is not permitted but may be considered 7 days, and will attract a Surcharge of 20% beyond which deposit is forfeited without refund.
Short time booking
Individual trackers can buy from Rwanda Development Board not more than 2 permits for the month. There is no guarantee, which dates or how many per day will be available. Booking can be done on the day the booking opens, which is the first working day of the month, Please do contact us for last minute gorilla permit booking and we will secure it for you at no extra cost once you book a gorilla tour with us, (info@silverbacktour.com)
Payment Terms of the Rwanda gorilla permits:
The acceptable payment methods are:
Cash (Rwanda Francs, US dollars, GB Pounds, Euros).
Rwanda Gorilla Trekking Rules & Regulations
The park has clear rules and regulations that must protect visitors and gorillas at large;
Infectious diseases such as diarrhoea and flue are a problem to gorillas therefore a visitor with such diseases will not be permitted in the park.
It's always better to view the gorillas at distant and in groups rather than surrounding them.
Its important to leave a distance of about 5m, this is just to leave some space between you and the gorillas. In case they are moving towards you, tend to move backwards.
Digital camera is most suitable and a flash is not allowed.
Take this very important, avoid eating or smoking around the gorillas, its better to leave a distance of about 200m.
In case you want to cough or sneeze, cover your month and move away from the gorillas.
When you get close with the gorillas, get rid of making fun noises or sounds. more still sudden movements are not allowed.
Do not litter or spit on the green vegetation or soil once you are in the park.
Be time conscious because visiting the gorillas is strictly one hour.
Age is very important; therefore people below the age of 15 are not permitted to track gorillas.