Gorilla trekking in Rwanda is a breath-taking adventure that is commonly referred to as the best safari holiday experience in Rwanda and almost the whole world. The adventure of gorilla trekking in Rwanda attracts the highest number of tourists from every corner of the world visiting the land of "a Thousand Hills" daily all year round.
Find the complete guide to gorilla trekking in Rwanda in this pre-packaged blog and we can assure you by the end of this post, you will have made up your mind to start planning your next gorilla trekking safari to Rwanda. Silverback gorilla tours prides itself to offer the most affordable gorilla tours in Rwanda that are characterized by magical moments and thrilling adventures in the jungles. Expect to laugh, cry and perhaps fall in love with these wonderful giants of the mountains. The gorilla trekking adventure sadly is restricted to only one hour when with the gorilla. However, the whole activity often takes almost the whole day in the search for the gorillas.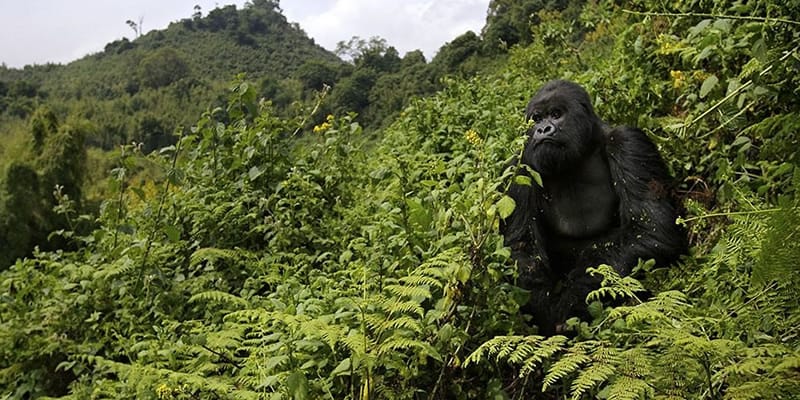 There has been a common report from all travelers who have trekked the gorillas, describing the experience as the best in all wildlife encounters. You will feel inspired, emotional and satisfied after looking into those liquid brown eyes of these human-related apes. There is still much to see in Rwanda away from mountain gorilla watching, visit the mountain-ringed Lake Kivu in the West of the country and feel an inland sea atmosphere. Or you can head South to Nyungwe Forest National Park and see her rich varies of chimps, monkeys and amazing birds that include Rift Valley Endemics. All the meals, entry fees, accommodation, cruises are included in the total price as per the itinerary. Our gorilla trekking safaris range from 1 to 14 days and give you the option to arrange a relaxing break, so it's easy to see everything a country has to offer. Checkout on our 1 Day Gorilla Trekking in Rwanda , 3 Days Rwanda Special Gorilla Safari, 3 Days Golden Monkeys & Gorillas Safari, among other packages we have to offer on a gorilla trekking adventure in Rwanda
Gorilla Tracking Adventure in Rwanda: What to Expect on the day
On your gorilla trekking day in Rwanda, you will wake up early morning (therefore you must find accommodation closer to the park entrance) to arrive at the park headquarters ready to attend to a briefing from the park ranger guides about the basics to consider while trekking the gorillas. During the briefing, you will be allocated a gorilla trekking guide who will be your lead guide throughout the day. In Rwanda, there are 10 habituated gorilla groups and you will be allocated a specif group to trek depending on your physical fitness and perhaps interest. A group of 8 persons can visit each gorilla family and the trek usually lasts anywhere between 1-6 hours. This largely depends on the movement and current location of the gorilla family you are assigned. Remember these are mountain gorillas, therefore prepare yourself to hike as a must until you find them. The English-speaking forest guides are amazingly good, and will lead you to the specific 'habituated' mountain gorilla group, which certainly will be acquitted to human presence.
What is the cost of a Gorilla Permits in Rwanda?
Gorilla trekking in Rwanda is managed by the Rwanda Development Board the national wildlife conservation body in charge of issuing gorilla permit to visitors who choose to go for gorilla trekking. The Cost of Gorilla Permits is divided into categories as seen below
An Ordinary Gorilla Permit in Rwanda costs USD $1500 per person, per day.
A Special Exclusive Gorilla safari experience costs US$ 15,000
The behind the scenes gorilla trip for 3 days costs US$ 30,000 for 3 persons.
For professional photography as well as filming the mountain gorillas, you part with US$ 5000 for 3 days consecutively. If you are a large crew of 8 people, you willpay US $ 12,000
Is Gorilla Trekking in Rwanda Safe?
Oh Yes! gorilla trekking in Uganda, Rwanda and Congo is safe and done all year round. Respective governments and wildlife conservation authorities have deployed tourism police in all gorilla parks to ensure safety of endangered mountain gorillas and travelers in Bwindi, Mgahinga, Volcanoes and Virunga national parks. Also, mountain gorillas have been habituated hence pose no harm to travelers. Besides, during your trek for the gorillas, you will be led by armed ranger guides who are trained to protect you from any sort of harm whether from the wildlife attacks, or from poachers. Be rest assured that you will be very safe while trekking the gorillas
How Does a Mountain Gorilla Look like?
As you meet up with the gorillas, you will be amazed to see and be told that a mature silverback male gorilla may weigh as much as 200kg, or even 3 times the overall weight of an average man, however the anxiety normally disappears once you set eyes on the group. Normally the gorilla group will be scattered over a small area of thick vegetation. They will carry on with their interactions and even feed without any concern of their human visitors although they will be observing you with interest. Rarely one, normally a playful youngster, will boldly approach you with inquisitiveness, at times coming really close that you will need to move away. (You are not allowed to move less than 7 meters close to them; this is to safe guard the gorillas from contagious human diseases.) The climate in Musanze ( 1,700m above sea level) is mostly cold. Please carry along warm clothing.
Where To See Mountain Gorillas in Rwanda
For one to have the best of gorilla trekking in Rwanda, you will have to visit the Volcanoes National Park (Parc National des Volcans), a section of the bigger Virunga mountains. Approximately 480 mountain gorillas live in the Virunga complex and reside on the altitude range of 2,300 to 4,500 meters in the southern area of Virunga National Park (in the DRC), as well as the Volcanoes National Park in Rwanda, and some in Uganda's Mgahinga National Park. Mountain gorillas are only found in the Volcanoes National Park. Besides that, you will have to visit Uganda in Bwindi and Mgahinga or DR Congo where you can find the mountain gorillas in Virunga National Park. There are 10 gorilla groups in Rwanda and lets find more about them below;
Gorilla Trekking Groups in Rwanda
Rwanda gorillas are divided into 2 groups; there are special gorilla groups set aside for only study or research purposes and there are the habituated gorups that are open for public tourism. The private research gorilla groups include the Beetsme and Pablo's Shida's and these have the highest number of gorillas.
The 10 habituated gorilla families include the Ugenda, Umubano, Susa group, Karinsimbi, Sabinyo, Hirwa, Amahoro, Bwengye, Group 13 (the Agasha group) and the Kwitonda. We can find out more about them in the next section of this blog.
1. The Susa A Gorilla Group
As the name suggests, this group was discovered by the late Dian Fossey along River Susa which flows. The family is the most challenging to trek since it normally stays up in the higher ranges of the mountains however the RDB's Tourism and Conservation trackers will know in advance how the group is located the day before in advance for the next trackers. Sometimes tourists have been barred from tracking the group because of its distant location. This group is very impressive with a family size of 28 gorilla individuals with three Silverbacks. This was the biggest gorilla group prior to separating into two.
2. Karisimbi Gorilla Family (Alias: Susa-B)
This gorilla family separated from the Susa-A family and today it is referred to as Susa-B or the Karisimbi Group. It has 15 individuals and normally found on the slopes of Mt Karisimbi Volcano (4507Meters) the highest peak of Rwanda. Karisimbi Group is better appropriate for serious hikers. It seems that they have formed their home in the higher mountain slopes of Karisimbi caldera. So visiting this group may take a full day hike. The group at times moves to higher altitude making the tracking pretty challenging. But, RDB tourism plus conservation guides will be a aware of the location of the gorilla group the previous day. Tracking the gorilla family at times can be stopped due to its faraway location.
3. Amahoro Gorilla Group
The Amahoro group derives its name from the word Amahoro which means "peaceful group. This is the most calm gorilla groups. this group has seventeen individuals: a Silverback; two Black-backs; five Adult females; 2 Sub-adult males; 2 Juveniles as well as 5 Babies. Nonetheless, the peace comes at a good price. Ubumwe, the silverback of this group is peaceful, really easy going as well as serene, he has sadly lost some group members to the Umubano group led by Charles.
To see the Amahoro you should maneuver over the somewhat steep climb but the climb is worth it when you finally find this amazing group.
4. Sabyinyo Gorilla Group
This group derived its named from Sabyinyo volcano and it actually means an "old man's teeth". Sabyinyo can easily be reached and it is led by a strong silverback Guhonda. This is the biggest silverback of all the gorilla groups, since it is very massive in physical appearance. In comparison to other gorilla families, Sabyinyo has fewer members although it is similarly impressive. The Sabyinyo is among the groups found nearest to the border of the park with 8 individuals that include one Silverback (which is the biggest in the entire park); three Adult females; a youthful female; two Juveniles as well as a Baby gorilla.
5. The Agasha Gorilla Group
At the time of its habituation, the Agasha gorilla family had only 13 members (this is why it also called the Group 13). But as of today, the group has nearly 25 members: a Silverback; twelve Adult females; two Sub adult female; three Juvenile as well as seven Babies. This group was first led by Nyakairima but Asgash overpowered him and shifted up the volcano to safe guard his group and ensure that Nyakarima didn't find them, hence the group name Agasha. Since then, the group has increased the number of members in his group by snatching some from other groups and incorporating other solitary gorillas, speedily the group expanded from 12 up to 25 individuals.
6. The Hirwa "Lucky One" Group
This group became renowned on 17th June 2006 after trackers witnessed its creation when some members from 2 separate families the Group 13 and the Sabyinyo group joined to form a smaller group at the time. Fortunately some other gorillas also joined this group and today the Hirwa group has nine individuals: one Silverback; three Adult females; two Sub adult females as well as 3 Babies. Although it is the newest gorilla group, Hirwa shows strength and well safeguards its members.
7. Bwengye Gorilla Family
This family has 11 member with a Silverback. It is majorly seen in the Slopes of Karisoke Volcano. Bwenge is the silverback that leads the group which was established in 2007 after he left his birth group and was joined by other females coming from other gorilla groups. The group has faced some challenging times; which included the death of six infants. Today this group is becoming strong with two successful births in the past couple years as well as a strong silverback leader. This trek to visit the group is challenging and includes an ascent of nearly 3 hours. The trails at times are muddy and pretty steep. It seems this is the group which featured in the legendary movie 'Gorillas in the Mist'.
8. Umubano Gorilla Group
The name of group means "neighborliness", the Umubano family comprises of eleven individuals: a Silverback; a Sub-adult male; three Adult females as well as six Babies. Umubano were initially members of Amahoro group however separated following Ubumwe the then dominant silverback being overpowered by Charles who is the current leader of Umubano.
9. Kwitonda Family
This group has 18 members and it is led by Kwitonda the silverback whose name means the "humble one" it also has 2 silverbacks plus a blackback. It moved from the DRC, and normally stays far away which makes it challenging to trek. This along with the Susa B are some of the most challenging groups to find.
10. Ugenda Gorilla Group
This Group lives in rwanda's Karisimbi area. it comprises of 11 gorillas including 2 silverbacks. Its acquired this mane which means "being on the move" since the family was constantly moving from one place to another. Because it is constant moving, tracking it is normally challenging and involves prolonged movement to find them.
What else to do in Rwanda after from gorilla trekking?
Rwanda is a hub of many other safari destinations that include Nyungwe Forest National Park, Lake Kivu and Akagera National Park.
Nyungwe Forest National Park: considered to be among the oldest forest in Africa, with 12 primate species, 300 bird species and about 7 mammal species. The major activity here is the chimpanzee tracking plus birding , canopy walkway and hiking trails.
Akagera National Park: will offer you a true wildlife experience, see the elephants, lion, buffalo, topi, zebra, antelope, monkeys, bushback, impala and so much more. Over 500 bird species here.
Gishwati Mukura National Park is one of the recent parks in Rwanda. It becomes the 3rd park, famous for primates and birdwatching in Rwanda.