How to obtain a Rwanda Visa, requires you to submit their well filled in applications to Rwandan Diplomatic Missions back in their home Country. However in case, there is no Rwanda Diplomatic Mission or consulate in your country, then you can apply for the Visa Online on www.migration.gov.rw. You will receive an email approving your Rwanda Visa application after 3 working days. You can then pay a visa fee of 30$ and present the Letter on arrival and get a visa. For a safari combo that combines Rwanda with other East Africa countries like Uganda or Kenya, then we would recommend that you Obtain the East Africa Visa which costs USD 100.
Visa Information and Applications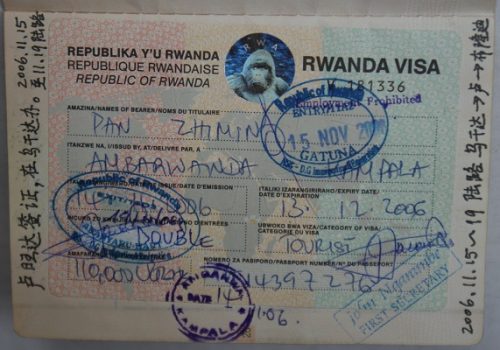 Traveling to Rwanda requires one to have a passport or any other internationally acceptable travel documents, that, in theory, include a visa equivalent to his or her intent behind entering into this country acquired ahead of time from the closest embassy of Rwanda abroad.
A Visa is needed by all visitors traveling into Rwanda excluding nationals of South Africa, the United States of America, Uganda, Canada, Democratic Republic of Congo, United Kingdom, Mauritius, Germany, Burundi, Sweden, Tanzania, Hong Kong as well as Kenya.
The Consular office is always opened for visa applications as well as collections from 9:30 a.m. – 1 p.m. Monday to Friday. If you want to know how to obtain a Rwanda Visa, do not hesitate to contact us.
Visa Applications Requirements
All Applicants have to present a passport valid for at least 6 months.
Applicants have to present an appropriately completed visa application form (pdf) in your own handwriting or one that is in type.
The Applicant has to present two passport photos with a white background showing both ears clearly.
Present a Signed associated letter detailing the reason for your entering Rwanda.
Present An invitation letter together with / or confirmation of your hotel accommodation reservation.
Proof of payment (which is Non-Refundable or Non-Transferable) to the High Commission Bank Account.
A stamped or prepaid, registered as well as self-addressed envelope should be included together with an application that was submitted through the mail. On the other hand, an applicant could organize to collect their passport through a courier.
Holders of UK Travel Document – UN Convention of 1951 are advised to present the above together with proofs of the address in the form of a present bank statement or a current utility bill.
Processing of a visa takes 24 hours (while processing of Travel Documents takes 48 Hours) for a complete file.
Please Keep in Mind that due to the escalating number of applicants, you are advised to offer the authorities adequate time between your date of application and the travel date.
Visa Application Fees
Depending on your travel plans, choose the best visa choice available. Note that Visa application fees are non-refundable. Please find below the visa fees for different travellers.
Transit Rwanda Visa Cost USD 30
Single Entry Costs USD 30
Multiple Entry Costs USD 50
Tourists Visa Costs USD 30
Family Rwanda Visa costs USD 50
East Africa Tourists Visa Costs USD 100
Conference Visa Single Entry Costs USD 30
Conference Visa Multiple Entry Costs USD 50
For any further information and help, feel free to Contact Us for any help.