Silverback tour is the best option for guided trips with our Rwanda Car Rental Driver Guide package. The secret to a great safari lies not only in your specific itinerary, the lodge selection or season of travel. On the contrary, the key to a successful Rwanda car rental safari lies in the skills, passion, hard work, and competency of your driver-guide and so are our insightful driver guides. Our guides are not just the best but also very resourceful and each one gives his best on every safari ensuring that you receive the finest safari experience.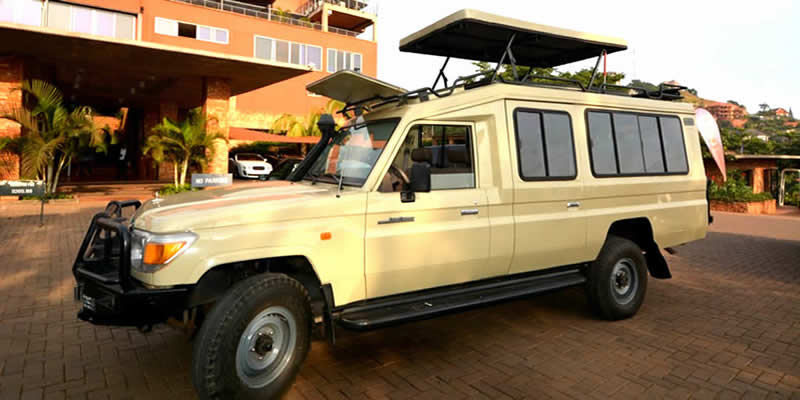 From one destination to the other through the best routes following a well designed itinerary or on a self drive car rental in Rwanda. Silverback gorilla tours is more than delighted to help you tailor and customize your itinerary with specific interests or needs; including those that wish to add certain aspects to our existing tours one of which must be a Rwanda car rental driver guide.
Rwanda Car rental driver guide – what we offer?
We offer Rwanda car rental driver guide for those of you that prefer to sit back and let a Rwandan navigate the windy roads and bumpy roads for you and make it more easier and interesting to see our country. Our Driver guides have got not only the experience but also the knowledge to give you deep insights into Rwandan culture, wildlife and all about Rwanda. They make great company and make the best out of your trip. They are given a fee of US$ 35 / day to cater for their personal daily allowances like food and lodging.
Rwanda Car rental driver/guide for your ultimate customized safari you definitely need a guide to move you to those different destinations that you need to go after customizing your safari. These driver guides know which "right button to press" when it comes to adventure. We make you a customized itinerary that suits exactly your preferred destinations and still maintain your own pace.
This is a great idea for those that do not fancy driving on our challenging roads themselves and like the company of a guide who can give you deeper insights into Rwandan culture and wildlife. Besides, you can see more of the beautiful landscapes and animals, people, their culture and the beautiful scenery. Many people find that self drive in Rwanda requires their complete attention meaning they sometimes miss some of the wildlife and incredible sceneries.
Chauffeur Driven Transfer Services
Whether you are picked up from the airport or picked up from a specific address, this service gives you one less thing to worry about when traveling in unfamiliar territory for Important Safari Activity in Rwandan National Park. Our driver guides are all experienced drivers, guides and mechanics. All have been around with many tourists giving them the experience to move you around as you relax and enjoy the country. They can give you insights into Rwandan culture and tell all stories about the daily life of Rwandese, people, birds, and animals.
Daily Chauffeur Drive
Are you an executive traveler? Our daily chauffeur drive service will be the best for your transportation as you stay in Rwanda. Experience the ultimate in convenience, luxury, and comfort as you have a highly trained driver with you for the entire day. A VIP option with added exclusivity is also available. Contact us today!
What is the cost of Hiring a Drive on a Car Rental Package?
We offer the lowest charges for our Rwanda car rental drive guides starting from only 35 USD per day to make your holiday trip an awesome one with great experience in all destinations you wish to visit. The Drivers have guiding & Driving Experience in all East African Roads even in the endangered Democratic Republic of Congo.
Why Choose a driver from Silverback gorilla tours?
A vehicle of your choice, driven by a professional, reliable chauffeur or guide as part of a sophisticated service package tailored to suit your needs.
Enjoy your special day, celebrate a memorable milestone or reach your business destination in comfort and style.
Don't waste time or miss any safari activity because of being stuck in traffic, our guides know the best roads to use for easy navigation and on time delivery to the destinations.
With unlimited kilometers, the services of our professional chauffeurs, a music selection of your choice, complimentary bottled water, and several other benefits.
Ideal for: When you need flexibility when collecting people from different locations. When you have a busy day in the office and you need assistance with getting family members or friends taken to different places or sites.
Should you opt to have a chauffeur at your disposal, the option is full day. In addition chauffeurs, tour guides may be provided on request.