Rwanda Car Rental with a Driver is an option you may choose if you do not prefer to Self Drive in Rwanda. At Silverback gorilla tours, we offer driver guides to visitors who prefer to sit back and enjoy the safari as the driver gets you through the rugged paths until you reach the preferred destinations. We understand that the secret to a great safari lies not only in your specific itinerary, the lodge selection or season of travel, but the skills, passion, hard work, and competency of your driver/guide and so is our insightful Rwanda Car Rental with Driver option. Our driver/guides are well trained defensive and are highly professional with a vast experience of more than 10 years in the business.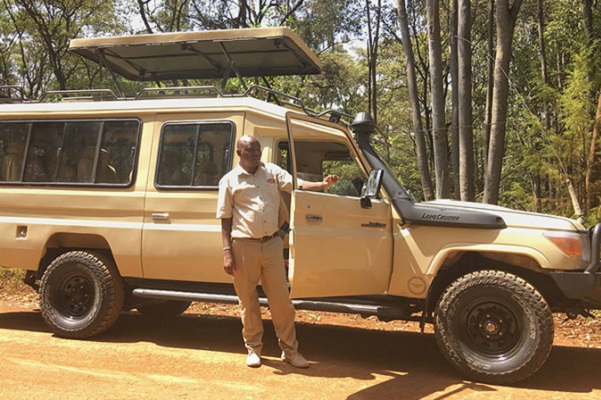 Our driver guides will assist you with your baggage and provide an efficient transport service in and around the city. All our driver guides have comprehensive local knowledge, they are well versed with the traffic patterns and most efficient routes to use in and around Kigali and able to function as a chauffeur taxi service as well.
Why you should have a safari driver guide?
You definitely need a driver/guide to take you to the different destinations to effectively suit your customized safari since this is a new environment for you. Our driver/guides know which "right button to press" when it comes to adventure.
Rwanda Car Rental with a Driver is a great idea for those that do not fancy driving on our challenging roads themselves and like the company of a guide who can give you deeper insights into the Rwandan culture and wildlife. Besides, you can see more of the beautiful landscapes and animals, people, their culture and the beautiful scenery because the driver guides know where these things are and they can take you there. Many people find that self-drive in Rwanda requires their complete attention meaning they sometimes miss some of the wildlife and incredible beautiful sceneries.
Checkout our fleets for Rwanda Car Rental with a Driver
Why Choose Rwanda Car Rental with a Driver on your Safari?
Rwanda Car Rental with a Driver allows us to take care of your safety through your road trips with us. Our driver guides are all experienced drivers, guides and mechanics which guarantees your safety and assurance that therefore little or no chances of getting stuck by the road.
All our safari driver guides have been around with many tourists giving them the experience to move you around as you relax and enjoy the country. This is an assurance they are well experienced and versed with the knowledge of safari road trips and excursions.
Our drivers will give you insight into the Rwandan culture and tell all stories about the daily life of Rwandese, people, birds, and animals.
Our drivers are flexible: When you need flexibility when collecting people from different locations. When you have a busy day in the office and you need assistance with getting family members or friends taken to different places or sites, our drivers will offer you the assistance.
Getting a safari driver guide.
Hire a safari driver guide on a safari trip, and still enjoy traveling at your own pace on a self drive safari in Rwanda.
Silverback tour Driver guides are available and given to you according to your schedule and can be organized if you need a given driver that was either recommended to you or has driven you before. The cost of US$ 40 per day is an all-inclusive price and caters for all the expenditures incurred by the driver. However, it is only for the National Park visits, that you will be required to pay for your drivers' entrance fee (about $4/24h.). You will not only create a job for a Rwandese directly but you will have made a great friend out of your trip.