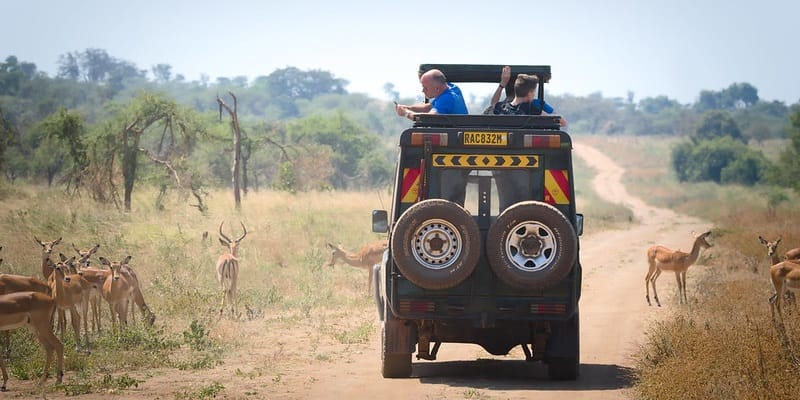 Top Things to do in Akagera National Park
Akagera National Park named after the river that runs through it is one of the largest national parks and Rwanda's Natural Treasures that rewards with unforgettable Savannah experiences. This scenic site was gazetted as a national park in 1934 and named after the river that runs through it; River Kagera. The park is located northeast of Rwanda bordering Tanzania and surely is a reason as to why we have come up with a collection of many top things to do in Akagera National park.
You will find splendid open Savanna Plains, broad-leaved forests and pleasant hills, candelabra Euphoria Trees, Lakes teaming with crocodiles and the large concentration of hippos. Maasai Giraffes, Burchell Zebras, Elephants, Buffaloes, various species of Antelopes such as the Defassa Waterbuck, Topi, roan antelopes, the large Eland Antelopes, Bohor Reedbuck, Oribi, Common Duiker, Klipspringer, and the semi-aquatic Sitatunga Antelopes and the Lions and Rhinos are back in Akagera National Park.
When it comes to Primates – you will find groups of the Olive Baboons, Vervet Monkeys, and the rarely seen Blue Monkey, the wide-eyed bush babies can also be found here. You might also come across the black-tailed Mongoose, Catlike Genet, black-masked Civet, Serval Cats, Warthogs, Bush Pigs, rarely seen Lions and more.
Akagera National Park boasts of diverse vegetation zones and abounds in mammal and bird species some of which can only be viewed in here. The park is also a hub of various sights and sounds you can encounter on a 1 Day Akagera National Park Tour, or a 1 Day Akagera National Park Tour. Let's look at the top things to do in Akagera National Park.
Game Drives in Akagera National Park
One of the top things to do in Akagera National Park remains to be the wildlife game drives. Typically, game drives are done during the day (either early in the morning, afternoon or late in the evening). During your game drive, you are taken along through the park in a safari vehicle/truck be driven along the tracks, through the green savannah plains, past wide-leaved woodlands and into the habitat of bountiful mammal species in the Akagera National Park. Some of the animals to look out for while on a day game drive include; The Defassa Waterbuck, Topis, Bohor Reedbucks, Oribis, Semi-Aquatic Sitatunga, Eland, Giraffes, Buffaloes, Elephants, Lions, and the recently reintroduced Rhinos are some of the mammals found in the park.
The night game drive (which is optional) is an exhilarating experience in which you step into the wild to view the nocturnal animals especially the wide-eyed bush babies, serval cats, civets, leopards. You will be guided by your flashlight and an experienced ranger. experience if you are setting out to see the wild
Akagera Nature Walks
In Akagera national park, you have the opportunity to go for amazing nature walks and nocturnal walks in some areas of the park with a ranger guide. This is a good way to explore the park outside of a vehicle which you use while on a game drive. Also, it allows more time and engagement concerning butterflies, insects, and plants that you could easily miss while on a safari.
Bird watching safaris
Another activity you should miss out on the top things to do in Akagera National Park is the bird watching activity. Akagera national park is home to over 480 species of birds with many only found in this park in Rwanda. The diverse habitats for birds at Akagera National Park give you an opportunity to view different kinds of bird species. There will be birds in the savannah plains, in the hills, forests, by the lakes, and at the river. The Red Faced Barbets, the Great Snipe, the Lesser Kestrel, the Armot Chat, Swamp Fly Catchers, the Papyrus Gonolex and the Shoebill are some of the most rewarding sights while birding. Book a 3 Days Bird Watching Safari in Rwanda for a birding safari experience in Akagera.
Sport Fishing on Lake Shakani
Still, on your safari to Akagera National park, don't miss out on the sport fishing activity on Lake Ihema and Shakani. The activity is surely a thrilling experience. At the serene waters, you can fish to the background music of chirping birds and hippos that grunt as if to cheer you on. You are free to keep your catch to roast, fry or grill it and enjoy the taste of fresh fish from Rwanda.
Lake Ihema Boat Ride Safaris
A boat safari is a relaxing yet rewarding way to view wildlife. It is an even more rewarding experience when on the lake. Lake Ihema is the second largest lake in Rwanda known for its abundant hippo population and crocodile dotted shores. The boat safari on Lake Ihema offers the opportunity to take up-close photos of these animals. As other animals come to the lake for a drink or bath, you can take a look at those that you may have missed while out on a game drive in the wild.