This 9 Days Rwanda Cultural Tour & Gorilla Trekking Safari starts from Kigali all the way to Akagera National Park for a thrilling game drive experience and a boat ride along Lake Ihema, Go for a cultural village walk in the homesteads, head out to visit Butare, Rwanda's cultural center and the Twin Lakes of Burera and Ruhondo. You will then proceed to go for the gorilla trekking adventure in the Volcanoes National Park, as well as taking a moment to relax at Lake Kivu Beach. Enquire Now Lake Kivu is home to many luxurious guesthouse and beach resorts such as the Cormoran Lodge where you can enjoy the fresh fried fish and then proceed to Kigali to end your precious 9 Days Rwanda cultural tour in style. We hope you will spare some time to stop over in Kigali on your last day to look visit some of the historical sites of Rwanda and also do some local shopping of the precious crafts and beautiful souvenirs of Rwanda people!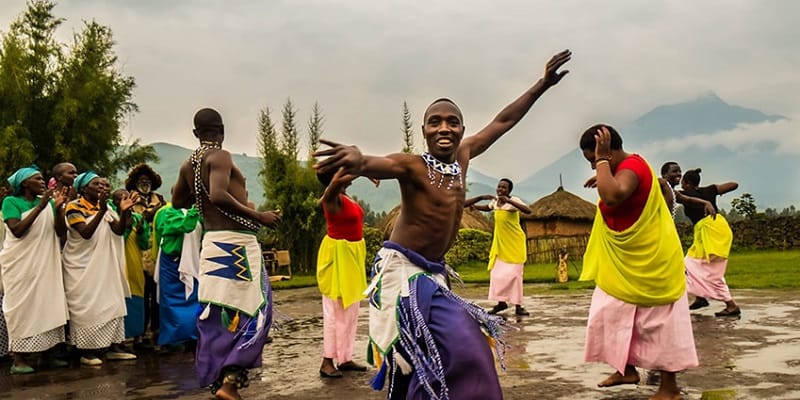 Tour Highlights of Your 9 Days Rwanda Cultural Tour
The game drive Safari experience in Akagera national park
Optional – Boat trip on Lake Ihema
Cultural and community experiences
Mountain gorilla trekking in Volcanoes National Park
Visit the Twin Lakes of Rwanda
Lake Kivu Experience
Safari Itinerary
Day 1: Arrival & Transfer to Kigali for the 9 Days Rwanda Cultural Tour & Gorilla Trekking
On your first day of the 9 Days Rwanda Cultural Tour, you will be warmly welcomed by a tour guide from Silverback gorilla tours upon your arrival at the Airport. The guide will highlight to you the typical cultural tour experience in Rwanda and some of the things that you need to expect on this tour itinerary. Immediately you are ready to start the tour plan, you will be now transferred to your booked hotel in Kigali where you will enjoy your dinner and overnight stay.
Your second day of the 9 Days Rwanda cultural tour will prepare you for an immense tour of Kigali City where you will visit a number of historical and cultural places in Rwanda. After a tasty breakfast at the hotel, your driver will pick you up to go for the city tour starting with the top historical sites in Kigali. To mention, you will visit for example; the Kigali Solaire, Stade regional, Kigali Genocide memorial site in Gisozi, The Richard Kandt Museum among others. Later in the afternoon, you will have lunch at one of the local restaurants for a taste of Rwanda Local dish. Afterward, your driver will transfer you to Bugesera to visit the reconciliation village, Nyamata, and Ntarama genocide churches. Later you will return to the lodge for dinner and overnight.
Day 3: Transfer to Akagera National Park
As you still reminisce the cultural experiences of the previous day, today you will have breakfast in the morning as usual then start off the journey to the Akagera National Park, located in the Eastern province of Rwanda. The journey will pass you via Imigongo cultural center where you will have your lunch and also get a chance to practice the ancient artisan crafts making in the region. In the late afternoon, arrive and check in at the Akagera National Park which is a registered center of willdlife game viewing in Rwanda. Dinner and Overnight at Akagera Game Lodge or Ruzizi Tented Lodge/Camp.
Day 4: Transfer to Akagera National Park
Wake up to a cup of coffee with a delicious breakfast meal then head out for a game drive experience in the park where we will look out for the big game including Elephants, Lions, Black Rhinos, Buffaloes, Zebras, Giraffes, Waterbucks, Bushbucks, and many more animals. The game drives in Akagera national park usually take place in the northern sector of the park. You will also have a chance to bound to see a variety of bird species, later return and rest as you wait for your lunch. You will have lunch and then prepare to depart to the northern part of the park to visit the pastoralist heritage experience.
Day 5: Morning Game Drive & Boat Trip on Lake Ihema
Another day of the Cultural tour experience in Rwanda. Today you will wake up very early for a morning game drive where you will predators hunting for their prey. At about 10 am, return to the lodge for your breakfast and then proceed to Lake Ihema for a stunning boat ride to spot aquatic wildlife like crocodiles, hippos and over 50 species of water birds like pelicans, sunbirds among others. Later return to the lodge for an evening village walk and interaction with the locals then retire for dinner and overnight.
Day 6: Visit Rwanda's Twin Lakes, Ruhengeri en-route
Early in the morning, have your breakfast and check out of the lodge for another amusing day of the safari itinerary. Today, your driver-guide will transfer you to Ruhengeri (Formerly known as Musanze) with en-route stopovers for lunch and a peculiar visit to the twin lakes of Burera and Ruhondo. You will also be accompanied to take a tour of the community project initiatives like brick making sites and bee hive locations among others. Here you will feel the real Rwandan lifestyle and cultural experience with the locals. Afterward, the journey continues to Ruhengeri with several photography opportunities. We will arrive at the headquarters of Volcanoes National Park in the evening to check-in at the lodge as you ready for the gorilla trekking adventure due the next day.
Day 7 of the 9 Days Rwanda Cultural Tour & Gorilla Trekking: Gorilla Tracking in Volcanoes National Park, Rwanda
The long awaited day is here, be anxious to meet the giants of the wild. Hoping that you had enough rest and sleep, today we wake up very early to transfer to the park headquarters in Kinigi to meet with other groups of trekkers for a gorilla trek briefing for the officials. The gorilla trekking adventure begins immediately after the briefing and this is the most awesome and unforgettable moment ever on this tour itinerary. You will have a break to have your lunch and on meeting the gorillas, you are only permitted to spend one hour with them. Later on, after Gorilla trekking, visit Buhanga forest for Kinigi Cultural Village with dinner and overnight. Meal plan – Breakfast, Lunch & Dinner
Day 8: Rwanda Cultural Tour Excursion – Transfer to Kivu
After your breakfast, you will check out of your hotel/lodge and transfer to the beautiful Lake Kivu. On your way, you will visit the Banana and Sorghum beer production plants and you could even have a taste if you dare. You will then proceed to the shores of Lake Kivu to relax. Dinner and overnight.
Day 9: Visit Butare, Transfer back to Kigali and end of the 9 Days Rwanda Cultural Tour & Gorilla Trekking
After breakfast, transfer to Butare, "the intellectual town of Rwanda". Visit the Basilica of Kabagayi, the ancient King's palace at Nyanza, National Museum and drive back to Kigali Airport for your return flight after you have had an en-route lunch and souvenir shopping (Optional). Meal plan: Breakfast and Lunch.
This Tour Includes
Airport transfers.
Accommodation and meals as per itinerary.
Transportation by safari vehicle.
Gorilla tracking Permits.
Nature walk.
Visit Lake Kivu and boat ride.
This Tour Excludes
Airfares & Rwanda Visa.
Laundry.
Tips to the local guides.
Telephone fees.
Porter fees when tracking.
Personal insurance and shopping.
Any other item not mentioned above.