This 2 days Rwanda Chimpanzee trekking safari will take you to trek the chimpanzees in Nyungwe forest national park. Enquire Now On this safari, you will drive to the countryside heading towards the Nyungwe forest park on a thrilling 5 hours journey from Kigali with selected stopotovers along the way to take photographs and blend into the local lifestyle of Rwanda people.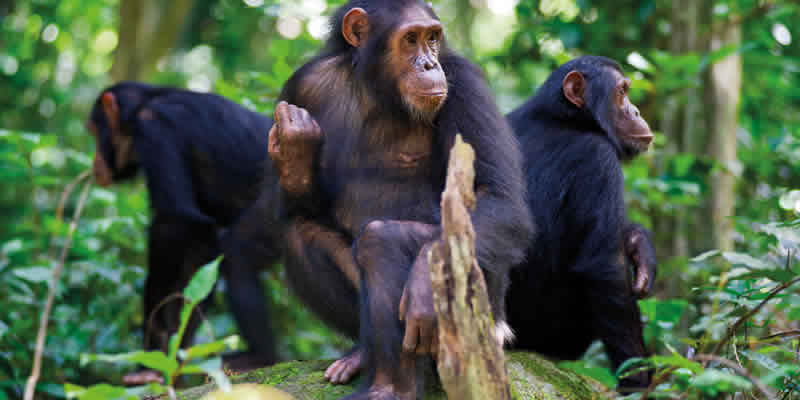 This 2 Days Rwanda chimpanzee trekking safari is a similar short tour like the 2 Days Gorilla Trekking Safari Rwanda designed to fit visitors who are on a business holiday trip and surely have a constraint time of stay in Rwanda but would like to have that exhilarating encounter with the primates in Rwanda. Be welcomed by the due from the dense Nyungwe forest as you approach the park offices to experience the best of primates species in one of the remaining montane forests in Central Africa.
Tour Highlights on this 2 Days Rwanda Chimpanzee Trekking Safari
Transfer to Nyungwe Forest National Park.
Nyungwe Forest Canopy Walk.
Rwanda Chimpanzee Trekking in Nyungwe Forest National Park.
Day 1: Transfer to Nyungwe Forest National Park
Start your 2 Day chimpanzee trekking safari with a morning breakfast from your hotel/residence and then set off at 7:30 am for a 5-6 hours journey to southern province of Rwanda where Nyungwe forest national park is located. Along the way, you will a photographic stopover Huye at the ethnographic museum formerly the national museum of Rwanda. You will have your lunch in Huye and then proceed with your journey to arrive at the park in the afternoon. In the afternoon, you will take on the canopy walk in Nyungwe forest. The drive to Nyungwe forest is rewarding with views several hills, Lake Kivu and Kibira national park in Burundi.
Day 2: Chimpanzee Trekking in Nyungwe Forest
At about 5.30 am early in the morning, yoour driver guide will pick you up from the lodge with your packed breakfast and lunch to take you to the chimpanzee trekking briefing point at Uwinka visitors center in Nyungwe forest before. You will be enlighted on the Dos and Don'ts of chimpanzee trekking and the necessary basics you need to be equipped with for this activity.
After receiving a briefing and depending on the number of people present for the chimp trek you will be divided into two groups. One will track starting at he Uwinka center and another starting at Cyamudongo – which will require your driver guide to transfer you to the starting point. Your range guide will be in communication with the trackers who live early morning to locate where the chimpanzee nested the previous night.
Nyungwe Forest is known to be rich in botanical diversity hosting over 200 species of trees and flowering plants and about 300 bird species. Home to more than 13 species of primates including Olive baboons, L'Hoest's monkeys, Ruwenzori colobus, Vervet monkeys, silver monkey, Grey-cheeked manga-bey, red-tailed monkey etc, you are most likely to sight some of these forest inhabitants on your chimpanzee trekking safari. You are allowed to stay with the chimps for only 1 hour after locating them, photography is allowed but be reminded that the flash is prohibited. Meal plan – Breakfast and Lunch.
2 Days Rwanda Chimpanzee Trekking Safari Prices
| | | | | | | |
| --- | --- | --- | --- | --- | --- | --- |
| Number of people | 1 | 2 | 3 | 4 | 5 | 6 |
| Price per person – Top View Lodge | $800 | $600 | $550 | $500 | $480 | $420 |
| Price per person – Gisakura Guesthouse | $750 | $560 | $450 | $400 | $380 | $300 |