This 2 Days Gorilla Trekking Safari Rwanda gives you an ultimate safari experience in Rwanda's gorilla trekking destination, the Volcanoes National Park. Several people always do plan for that thrilling moment to encounter the mountain gorillas in their natural habitats. Enquire Now The Volcanoes national park in Rwanda is among the only four parks where gorilla trekking can be done from with the other three being the Bwindi Impenetrable and Mgahinga Gorilla National parks in Uganda, and the Virunga National Park of DR Congo. These are the only places where the mountain gorillas are currently inhabiting.
Your 2 Days gorilla trekking safari in Rwanda will allow you to fly in for a lifetime opportunity to get close to these massive but gentle animals that live in a communal family led by the dominant silverback. The Volcanoes national park is located north of Rwanda in Musanze District 115 km from Kigali (about 2 hours drive). Enjoy this Gorilla trekking safari as you go deep in the jungles of the park in search of these gentle wild creatures of the mountains. Unfortunately, however much the encounter with the gorillas on the safari is so much exciting and unstoppable, you are only permitted and restricted to spend up to one hour with gorillas. Let's look at the highlights of this gorilla safari.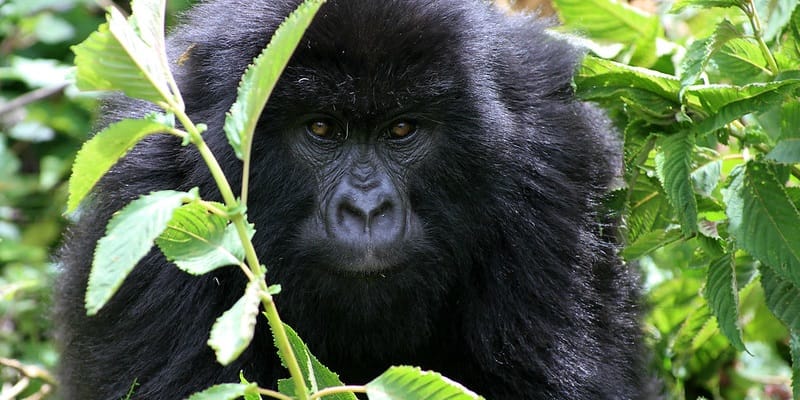 Tour Highlights on this 2 Days Gorilla Trekking Safari
Transfer to Musanze (Ruhengeri)
Gorilla trekking in Volcanoes National park
Visit the Iby'Iwacu cultural village
Safari Itinerary Details.
Day 1: Transfer to Volcanoes National Park
Upon arrival at the airport or pickup at your residence/hotel in Kigali, a safari tour guide from Silverback gorilla tours will meet up with you to brief you on the itinerary plan for your 2 Days gorilla trekking safari. After a review of your safari plan, you will be driven off to Musanze District where Volcanoes National Park is found. The journey from Kigali to Musanze is about 2 hours (115 kilometers).
Enjoy the scenic drive through the different villages and town along the way. The amazing and breathtaking great scenery of the thousand hills with exhilarating views of valleys and pathways to different homes and trading centers will treat your eyes. On arrival, we shall check-in for accommodation at either Hotel Muhabura, Mountain Gorilla View Lodge, Bisate Lodge depending on your budget plans and arrangement. Be expectant to meet the massive mountain gorillas on your trek after briefing from ranger guides early the next. We advise that you get enough sleep the day before so that you prepared for both a short hike and along hike depending on where the gorillas nested.
Day 2: Mountain Gorilla Trekking in Volcanoes National Park
Wake up early in the morning at 7:00 am to have breakfast at the hotel/lodge then your driver guide will drive you to the park headquarters in Kinigi to attend to a gorilla trekking briefing from the park officials. You will then be divided into groups of 8 persons and be assigned to specific gorilla groups to trek on the day with your ranger guide. After a comprehensive briefing on the basics of gorilla trekking, you start your trek into the jungles of volcanoes national park. For some gorilla groups, you are expected to drive out a bit before starting the trek. You are advised to take a long a porter to help with your day pack and some of your gadgets, it is easy to think that you do not need one but they can be helpful if the gorillas nested further a way from your starting point. Gorilla Trekking in the Volcanoes National Park is an experience that will climax the 2 Days Gorilla Trekking Safari in Rwanda. For most travellers or lets say all, this is the moment that will pose a lifetime changing opportunity. After enjoying your 1 hours with the mountain gorillas, you will take a drive back to Kigali for your final day outbound flight plans.
End of Safari