Situated in Akagera National Park, the seasonal Karenge Bush camp is also set up two times in the year and removed out, and leaving no trace of its being. Just between this campsite and the lodge is a Karenge and it aims to leave a light footprint on the earth, echoed in the name Karenge that means little foot.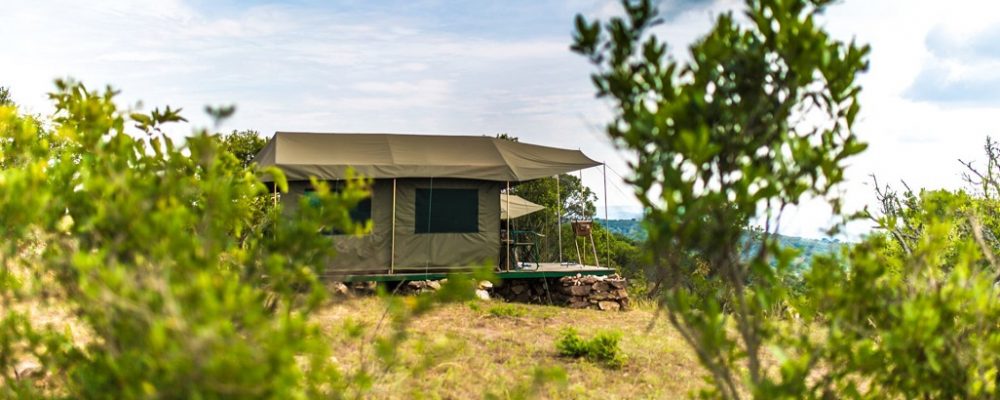 It was named after the river that flows along its eastern boundary and the park has got a diverse land scape as well as fantastic biodiversity. Whether on day or night game drives, you can keep an eye on the eland, topis, giraffes, impalas, sable and roan antelope, zebras, crocodiles, lions, leopards, primates and close 500 bird species. The boat trips on Lake Ihema are also a good opportunity of viewing the water species.
There is a maximum on only 12 visitors that are to be accommodated with in six tents that contain camp beds as well as the beddings, solar lights, camp chairs and the reed matt floors. Each of the tents has got a rural out door bath room with a hot water delivered on a daily basis. Breakfast, lunch and dinner is also included with in the rate and are served in the dinning tent each day. You can enjoy the excitement of staying in a pop up camp that moves around Akagera National Park.
The seasonal pop up camp which shows the different areas of Akagera National Park
Intentions to leave a light footprint on earth.
The park is not crowded and its often undervalued, home to over 500 species of birds.
The camp only houses a maximum of 12 guests, and this means that guests can enjoy an intimate safari adventure
The meals are also included in the rate.
Derived from a Kinyarwanda word meaning 'small footprint' Karenge Buch camp is a seasonal Akagera National Park. As well as being the name of the area where the camp was first set up, it echoes the aim of the bush camp to leave a light footprint on the earth. The camp is set up bi-annually for 3 months at a time, and when it is taken down there should be no lasting presence of its existence. No cement or permanent construction materials are used in the set-up of Karenge Bush Camp. The camp offer six tents, with a maximum of 12 guests. Beds are camp beds with mattresses and bedding. Camp chairs, reed mat floors and solar lights are provided in each tent. The bathrooms are bucket showers and toilets and a canvas basin. Warm water is provided daily.