Hotel des Mille Collines is a renowned luxury hotel in Kigali's vibrant and colourful city centre. The hotel is situated in the heart of the main shopping and commercial area, and only about 80 kilometres / 50 miles from one of Africa's easiest gorilla-trekking destinations, Volcanoes National Park. This magnificent historic hotel boasts gorgeous views of the Kigali skyline and the lush green hills that the city extends over.
Hôtel des Mille Collines prides itself on offering superb culinary and fine dining experiences. La Terrasse provides guests with all-day dining overlooking the hotel's flourishing green gardens, while the elegant Le Panorama is Kigali's signature dining experience complimented with breath-taking views of the city's twinkling lights and rolling hills.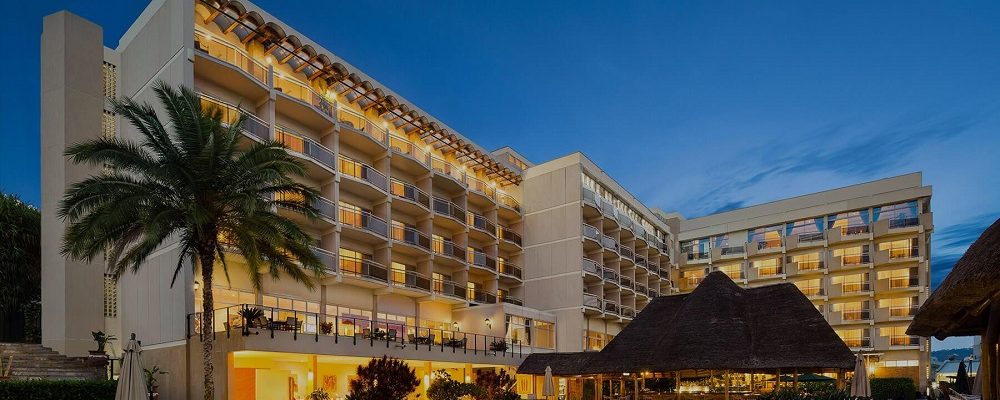 Outside, overlooking the city, the hotel's beautiful gardens feature a large swimming pool surrounded by an extensive patio set with sunloungers. In the adjacent small spa you can enjoy a massage: perhaps one using traditional wooded clubs called rungus to soothe aching muscles.
Hotel des Mille Collines' 112 spacious rooms are spacious, clean and comfortable, without being luxurious. All have private bathrooms, satellite televisions, PC hook-ups and most other standard hotel amenities, but on our most recent visit in May 2017 we felt that they appeared a little dated and bland; quite a contrast to the smart foyer.
Facilities
Take a dip in the hotel's crystal-clear swimming pool and sink into a comfortable sun lounger with a quenching drink and a snack from the Pool Bar, also known as 'Lieu de Vie' (Place of Life). Or simply indulge in a de-stressing massage at the poolside massage banda.
Ask your Africa Safari Expert to arrange a fascinating city tour to explore clean, safe and friendly Kigali – its lively markets, the fascinating Muslim quarter and the moving genocide memorial in Gisozi are just a few places of interest.
After dinner, head to the stylish Legacy Lounge & Wine Bar for drinks, cigars, and fine blues and jazz music.
Dining
Hôtel des Mille Collines' La Terrasse restaurant is an ideal spot to start your day. Situated beside the beautiful gardens, this restaurants bursts with delightful aromas and fragrances when fresh breads and pastries are served every morning.
Le Panorama is situated on the hotel's fourth floor and offers a gourmet menu that varies from fine European meals to signature local dishes. It is a popular place for romantic dinners accompanied by superb views of the city's skyline.