The 5 Days Rwanda High End Gorilla Trekking safari starts and ends in Kigali Rwanda. You are to visit two different primate destinations including; Volcanoes National Park where you are able to track mountain gorillas and view other animal species. Enquire Now You will also visit Nyungwe National Park where you are able to track chimpanzees and enjoy a canopy walk as well. Contact us to book this Rwanda luxury tour.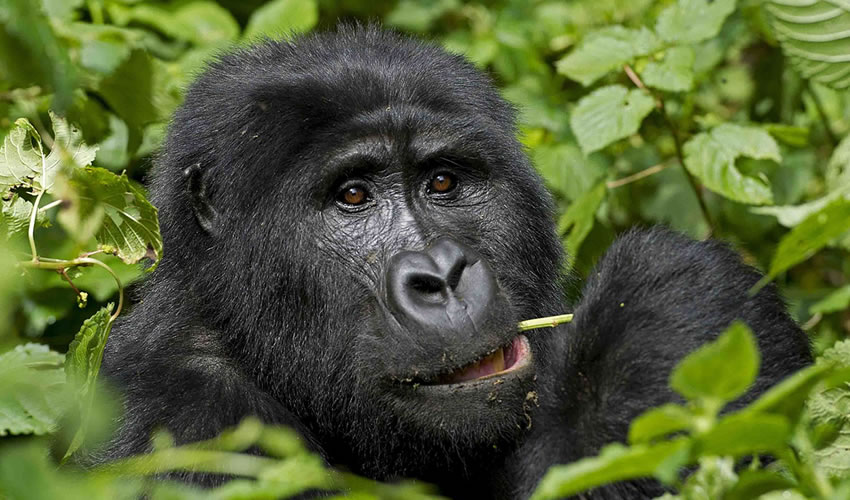 Tour highlights
Day 1: Pick up from Kigali & transfer to Nyungwe Forest
Day 2: Chimpanzee trekking & a canopy walk in Nyungwe Forest
Day 3: Transfer to Volcanoes National Park
Day 4: Gorilla trekking & a tour to the Iby' Iwachu Cultural village
Day 5: Golden Monkey trekking & Departure
Detailed Itinerary
Day 1: Arrival for the 5 Days Rwanda High End Gorilla Trekking- Fly to Nyungwe Forest
Upon your arrival, you will be welcomed by a Silverback Gorilla Tours safari guide who will brief you about the tour. You will have a city tour in Kigali and get a chance to visit the genocide memorial site as well as other museums. Have lunch and take a helicopter flight to Nyungwe Forest National Park. This national park is located in southwestern part of Rwanda and it takes about 5 hours to get there by road. Get to enjoy several places along the way and also visit the palace of the former king of Rwanda and other key places. Arrive at the park and check in for dinner and overnight at Nyungwe Forest Lodge.
Day 2: Chimpanzee Trekking – Canopy Walk in Nyungwe Forest
Wake up so early and have your breakfast before being driven to Nyungwe Forest head offices for briefing about chimpanzee trekking. The briefing covers the topics about the history of the forest, wildlife to be found, what to expect as well as how to prepare. Chimpanzee trekking takes between 2 to 6 hours. You will be escorted by very experienced Guides or rangers. Even though you will be looking out for the chimps, Nyungwe forest is home to 12 other primate species. The golden monkeys are not easy to spot but expect to see the other 11 species. The park guides explain everything about the forest and the different species of wildlife.
After chimpanzee trekking, you are driven back to your lodge for lunch and rest. In the afternoon, you will go for the forest canopy walk. This walk is the first to be established in East Africa and it offers tourists an opportunity to get an aerial view of the park while working across the viewing platform, you can also see butterflies, primates, birds and many different tree species. After, get back to the lodge for dinner and overnight as above.
Day 3: Transfer to Volcanoes National Park
Get to walk up at your time and have breakfast before checking out. The driver will pick you up and you start your journey to volcanoes National Park. You will drive by the beautiful Lake Kivu and other beautiful features. Take as many photos of the lake as you can since Rwanda has got a beautiful county side with rolling hills, green plantations and the welcoming locals. Have lunch along the way and once you arrive at the park, you check in and have a rest before visiting the twin lakes of Burera and Ruhondo. You can also take a boat cruise and visit the islands to view the birds. Dinner and overnight at The Five Volcanoes Lodge.
Day 4: Gorilla Trekking – Iby' Iwachu Cultural Village Visit
Get to wake up so early and have breakfast as you wait to be taken to the headquarters for briefing. You have to request your hotel to give you packed lunch and enough drinking water. The time taken tracking mountain gorilla is unpredictable but we estimate between 2 to 6 hours at most. The activity can be very challenging but the opportunity to see a group of gorillas in the wild is very special indeed. The safety and security of visitors while tracking mountain gorillas is guaranteed as the gorillas are generally calm and peaceful. Get time to take photos of the group as you will be with them for only one hour. You have to remain calm even when they get close to you and follow guidance from your park guide.
After the trek, return to the lodge for lunch as you prepare to visit the community to enjoy their way of life. Later on return to the lodge for dinner and overnight at The Five Volcanoes Lodge.
Day 5: Golden Monkey Trekking,  End of the 5 Days Rwanda High End Gorilla Trekking- Departure
Have breakfast and then proceed for the briefing, the park guides will take you to search for the golden monkeys in the bamboo forests. Unlike gorilla trekking, golden monkey tracking in Rwanda takes a shorter time. Expect to complete the activity in 4 hours; the golden monkeys are cute but endangered species. They are only found in Rwanda, Uganda and Congo. The Golden monkeys are so playful and feel very comfortable with flash cameras unlike the gorillas. After spending time with the primates, you will head back to the starting point and find the driver waiting to take you back to the hotel for checkout before departing to Kigali. The journey back to Kigali takes between 2 to 3 hours. The driver will take you to the airport for departure or to your hotel in case you are still around.
END OF SAFARI
Tour inclusions
Accommodation as per the itinerary
4WD safari vehicle
Bottled drinking water
Gorilla trekking permits
Chimpanzee permits
A professional Driver Guide
Airport transfers
All the activities in the Itinerary
Tour Exclusions
Both international & domestic flights.
Visas.
Tips for the guides.
Extra accommodation facilities not detailed in the itinerary.
Other Beverages or Drinks of any personal nature like Alcohol.
Optional Activities.
Laundry services.