The 4 Days Rwanda Bird Watching Experience will allow you to visit Nyungwe Forest National Park, one of the massive montane forest in Rwanda and the largest in East and Central Africa. This bird watching safari starts and ends in Kigali, Rwanda's main capital. Enquire Now Nyungwe forest a prime destination for this tour intinerary is home to a record of 13 primate species that include the chimpanzees, Balck and While colobus monkeys, the Rwenzori Colobus among other primates. With over 300 bird species in the forest, you expect to have an exhilarating experience on this 4 Days bird watching experience in Rwanda. The main atttractions in the forest for a bird lover are the orchids and butterflies that will bring the essence of beauty of the nature to your eyes.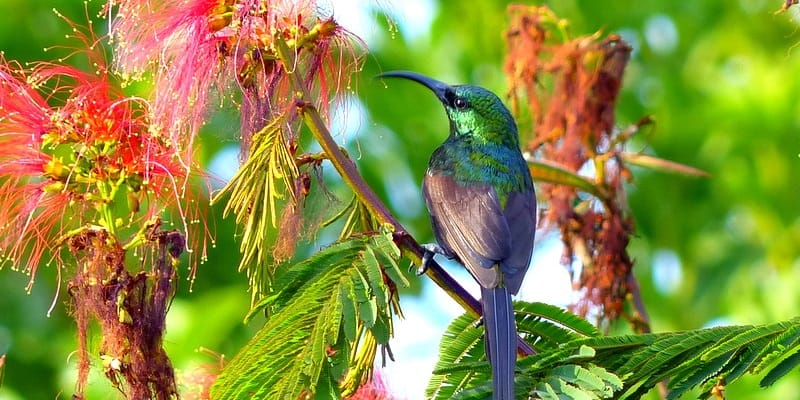 4 Days Rwanda Bird Watching Tour Highlights
Day 1: Arrival & Transfer to Nyungwe Forest National Park.
Day 2: Bird watching Experience and Forest Nature Walks
Day 3: Nyungwe Forest Chimpanzee Tracking
Day 4: End of tour, return to Kigali via Butare.
Day 1: Arrival and Transfer to Nyungwe Forest National Park (2-3 Hours Drive)
On arrival at the airport, you will be welcomed to the beautiful land of "a Thousand Hills" by a tour guide from Silverback gorilla tours. After a comprehensive overview and reiteration of the tour plan and highlights, your driver will transfer you southwards to the Nyungwe Forest National park with enroute stopovers via the Kings Palace. Enjoy the 4.5 hours journey with beautiful and amazing views of the green hills of tea plantations in Nyungwe. Upon arrival at the park, you will register and check-in at the lodge you booked for, then lunch and some rest.
Accommodation options: Nyungwe Forest Lodge, Nyungwe Hilltop view hotel or Gisakura Guest House (ORTPN)
Day 2: Rwanda Bird Watching Tour in Nyungwe Forest Park
Today you will undertake a guided forest walk in Nyugwe Forest to look out for the different bird species in the park. Not to be missed among others include; the Yellow-eyed Black Flycatcher, Mountain Sooty Boubou, Rwenzori Batis, Blue-headed Sunbird, Sharpe's Starling, White-tailed Blue Flycatcher, Evergreen Forest Warbler, Siffling Cisticola, Bronze Mannikin, Golden-breasted Bunting, Neumann's Warbler, Red-throated Alethe, Mountain Wagtail, Barred Long-tailed Cuckoo, Kungwe Apalis, White-bellied Robin-chat, and just so much more. After the beautiful moments spent with the bands, we shall get back to the lodge/hotel (as above) for your lunch and later, dinner and overnight.
Day 3: Nyungwe Forest Chimpanzee Tracking
Today we shall set out early in the morning after breakfast to meet with fellow trekkers at the park headquarters for a guided briefing exercise about the whole experience of chimpanzee tracking. The trek lasts for about 4 hours and we catchup with the chimpazee troops by following their hooting sounds. Unlike the gorillas that are calm and settled at the time of seeing them, the chimpanzees are too playful. Therefore when you meet them, they are most likely to disappear off in the forest after not more than 20 minutes. Depending on your interest, you are able to trek a variety of chimpanzee groups on this day. In the evening, you will still have dinner and overnight as bove.
Day 4: End of the 4 Days Rwanda Bird Watching Experience, Transfer back to Kigali via Butare
Today marks the end your 4 Days Rwanda Bird watching safari. You will wake up and have breakfast then embark on the senic journey drive to Kigali with a planned stopover at Butare where you will visit the cultural museum to take a deeper insight of the Rwanda cultural heritage and traditions. Proceed to Kigali reaching in time for your planned flight departure. If you wish to stay for mroe days in Rwanda, you may go for another Kigali City tour where you can visit the colourful markets and the craft centres such as Kimironko Markets, Kigali Art Crafts Center, Nyamirabo Women center and the Imgongo center for your final day shopping.