Ruzizi Tented Lodge is a small luxury tented camp and has 7 en suite tents that are patched on the forest shores of Lake Ihema and each of the tents is well protected by the large palms and trees. The tents were also placed on both sides of the grass thatched main structure that homes the reception area, the lounge, bar and dining area. There are also walk ways with wooden boards that connects each of the tents to the reception area. Its powered using a solar energy and the camp has electricity and hot running water.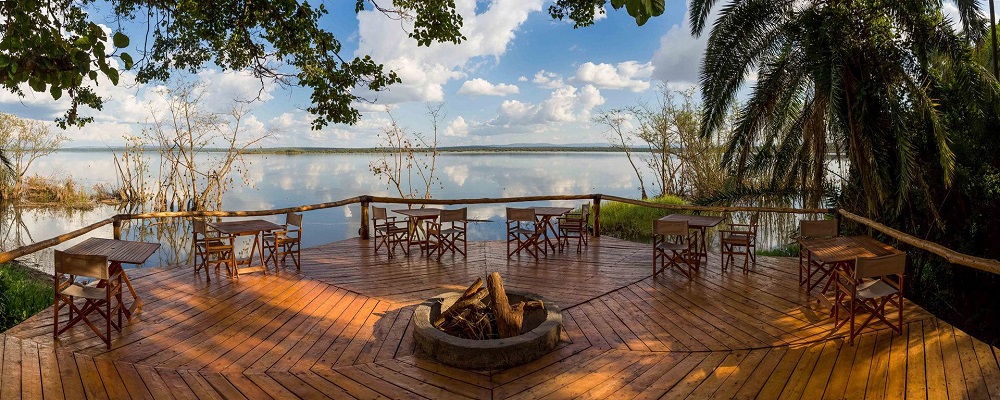 Ruzizi tented lodge was constructed and was started in January 2012 and was completed and was opened in November 2012. This tented lodge is also the first of its kind with in Rwanda, even though a well proven concept elsewhere in Africa. Was built on the shores on the forested shores of Lake Ihema.
Ruzizi Tented Lodge has got 7 tents and accommodates 14 guests; the camp is also an intimate retreat. Each of the tents has its own en suite bathroom with cold and hot running water, comfortable queen beds, dressing area, a private patio at the front. There is a thatched central lounge/ dining area which is accessible by the board walks from each tent. There is also a large deck under a shaded fig tree overlooks lake Ihema with the fire place for cooler evenings. The lodge is environmentally aware and are powered by solar.
The main meals at Ruzizi tented Lodge
Breakfast Meals
Breakfast is also served starting from 5:30 early in the morning on wards in the dining room. The staff at the lodge will also ask you the past night the time you wish to have the breakfast. It also comprises of coffee, tea, local fruits, and fresh juice, Eggs and the home baked bread on order.
Lunch Meals at Ruzizi Tented Lodge
The lodge also offers lunch menu every day. There is also a packed lunch that can be organized at the lodge, though a request has to be done a night before.
Dinner Offer at Ruzizi Tented Lodge
This is normally from 6-7pm and many of the guests come together to the lounge to enjoy a pre-dinner snack and some drinks. At exactly 7:30 pm, they will serve dinner and it's normally a set menu that differs on a daily basis which is prepared by the lodge chef. Some common examples also include; the pot pie dishes, braai with the different meats and salads, different types of pizzas, and this is followed by a desert that's prepared for the day. In case of any food allergies, please inform the staff on your arrival in order to enable them prepare for you sufficiently.
Power and water
This tented lodge runs mainly on a solar system. And the lodge's lights, kitchen equipment's, fridge as well as the water heating provisions are all powered by solar energy. Also when charging your electrical gadgets, they will be plugged into solar power. The system was also tailor designed to be able to run independently for 3 days of full occupancy without recharging. Though you enjoy staying at the lodge and also charge your electrical gadgets and it's most relevant that you take responsibility to the way you use the power by not leaving on the lights most especially you are not using or even leaving any fully charged gadgets that are plugged in the power points.
The water is heated by solar hot water system and each visitor is given 40 liters of hot water each and every day. This is also expected to be enough and also a way of conserving water hence it's recommended by the guests not to be wasteful when using water. Since it's pumped from the borehole using the solar energy, water that is used at Ruzizi tented lodge has been tasted and so safe for consumption. Even though, this water is tested safe, it's also advisable to drink only bottled water that is provided in the rooms.
Laundry Services
In order to conserve the energy and water, it's the lodge's policy to change the bed linen every two days and fresh towels are provided on request by the visitors. The lodge also offers the laundry services on daily basis and therefore laundry needs a minimum of 24 hours to be completed. Therefore it's also advisable to order your laundry 24 hours before.