Kigali Serena Hotel, formerly known as Kigali InterContinental Hotel, is a large, upmarket hotel with plenty of modern facilities. Located in Rwanda's busy capital city, it is just 10km from Kigali International Airport.
A superior, luxury accommodation in Kigali, well suited to the tastes of the discerning traveler; the Kigali Serena Hotel is located in the heart of the city center. With less than eight miles drive from the Kigali International Airport, the hotel is ideal for guests visiting Rwanda for business or as a safari overnight springboard to the distinct parks and reserves. Spend time in the plush Executive Lounge and Bar adorned with subtle Rwandan art. This lounge extends to a terrace above the swimming pool.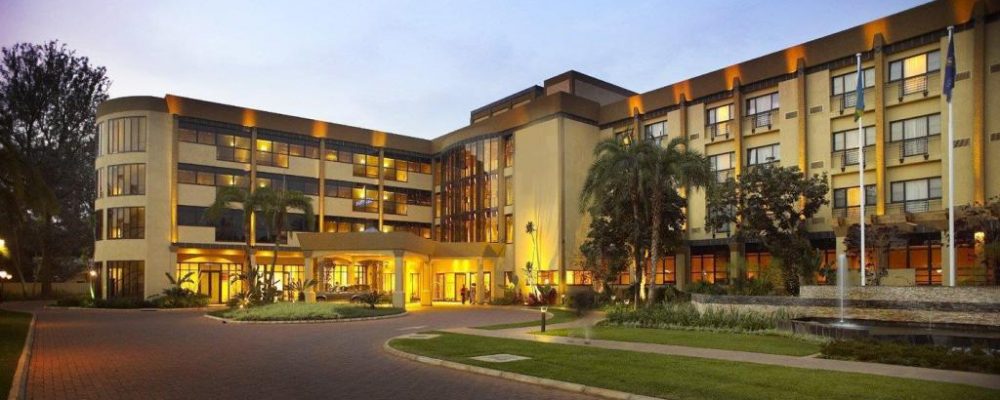 You can visit the Maisha Health Spa for skillful massages and relaxation or its namesake, Maisha Health Club for a rejuvenating workout session. Kigali Serena offers guests the best of facilities and amenities in its 148 rooms. Visitors can choose from an array of specifications such as the 54 Standard Rooms, 25 Deluxe Rooms, 37 Superior Rooms, 7 Prime Rooms, 18 Studio Suites, 6 Executive Suites and 1 Presidential Suite. One of the Standard Rooms is wisely equipped for the comfort of physically challenged guests.
The air-conditioned rooms have either twin or queen-sized beds along with amenities such as hairdryer, direct dialing phone, flat screen television, minibar, electronic safe deposit box, and tea and coffee making equipment. The Presidential Suite includes two rooms and a distinct living area. Guests looking for smoking rooms can inform AfricanMecca in advance, and the appropriate arrangements can be made.
Activities at Kigali Serena Hotel
There are many cultural pursuits in Kigali the most poignant of which and a must do in our opinion is the Kigali Memorial Centre in Gisozi. The centre opened in April 2004, on the 10th anniversary of the Rwandan genocide which claimed over a million people in just 100 days.
Just south of Kigali, a 45-minute drive will take you to Nyamata and Ntarama where you can visit two local churches where scenes of serious atrocities were committed during the 1994 genocide.
Continuing your city tour, visit the Kandt Museum of Natural History to learn about the interdependency between living beings and their environment. Tour old Kigali where the colonial buildings now form the heart of Rwanda's small businesses as well as visit the Kalpaki crafts centre with her many little stalls displaying a wide range of Rwandan curios, crafts and artefacts. A visit to the Nyabugogo second-hand clothes market is also worthwhile.