This 5 Days Rwanda Cultural Tour Experience is well packaged to reward you with a deeper insight into Rwanda traditions and cultural practices. Rwanda is well known to be with a rich cultural heritage you can very well explore on this 5 days cultural tour. Enquire Now The cultural setup of Rwanda is evidenced in the diversity of fine crafts and strong traditions which the Rwandan people observe to the maximum. You will have a fell of touch of the Rwanda cultural music and Rwandan cultural dances and performance, a variety of Rwandan arts and Rwandan Cultural crafts.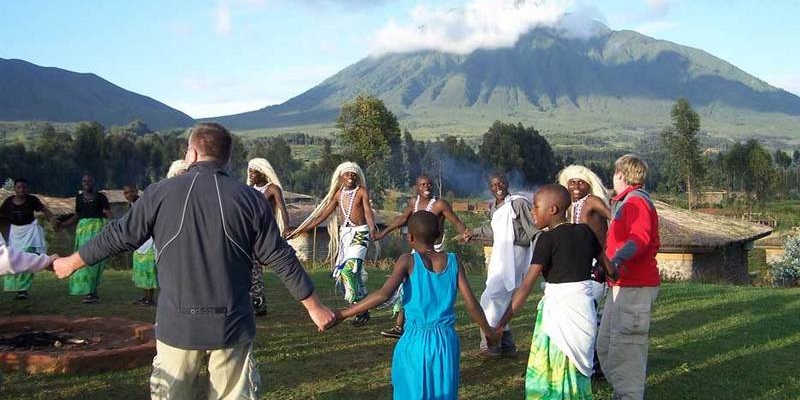 5 Days Rwanda Cultural Tour Itinerary
Day 1: Arrival and Transfer to Kigali for a City Tour Experience
Upon arrival at the airport, you will be warmly welcome to Rwanda by our tour guide waiting to transfer you Kigali for your lunch and rest. After a comprehensive review of your tour itinerary plan, you will spend your first day of the 5 Days Rwanda cultural tour in Kigali City having a special tour of the cleanest city in Africa visiting historic monuments and sites, pay a visit to the museums, art centers, and the local Markets where you can purchase yourself the delicious fruits and souvenirs. Later in the evening, you will retire at your lodge of stay in Kigali preparing for the next day trip to the Volcanoes National Park.
Day 2: Kigali – Transfer to Musanze (Ruhengeri)
After breakfast in the morning, we shall take our day trip to the Volcanoes National Park. located in Musanze district. After a 2 -3 hours scenic drive through the hilly landscapes, we arrive in time for lunch and later take on a village walk to interact with the locals as we divulge in to learn more about the traditions and practices of the Rwanda people, take a special tour of Bee keeping and Traditional medicine men within the district. Accommodation options: Up-market: Mountain Gorilla View Lodge or Gorillas Nest Lodge, Midrange: La Palme Hotel / Volcanoes Gorilla Lodge, Budget: Kinigi Guest House / Muhavura Lodge. Meal plan: Lunch and Dinner.
Day 3: Cultural experience of Rwanda Traditions and Practices
Today will be a day packed with various cultural experiences. Start your day with at about 9:00 hrs for a cultural walk through local farms with your tour guide and an assigned local expert to have a narration of the basic traditions, lifestyle, history and cultural practices of the people of Rwanda before getting to your host home. You will spend the entire day and overnight with the locals learning and experiencing the local way of life.
Day 4: Transfer from Musanze – Gisenyi
Your second last of the tour will start in the morning after breakfast. Your guide will pick you and embark on a drive to the pitch camp for a tour experience of the local brew (Banana beer) production and take some time (if interested) to learn Basket weaving before an eventual transfer to Gisenyi to relax on the shore of Lake Kivu. Meals Included: Breakfast, Lunch, Dinner.
Day 5: Transfer back to Kigali after 5 Days Rwanda Cultural Tour Experience
Our 5 Days Rwanda cultural safari tour sadly ends today. You will wake up to have breakfast and take on the journey to Kigali reaching in time to go for a Kigali City tour where you can visit the colorful markets and the craft centers such as Kimironko Markets, Kigali Art Crafts Center, Nyamirabo Women center and the Imgongo center for your final day shopping. You will after lunch after be transferred to the Airport for your outbound flight.