This is a 2 days Rwanda Gorilla trekking Tour in the "Land of a thousand hills". Enquire Now
Gorilla trekking aside, the itinerary also includes a tour of Kigali city, and The genocide memorial in Rwanda. During the trek, we can have a sight of the Golden monkey, forest elephants and other animals if lucky.
The trek is so exciting as you can hear the sounds of forest animals, birds and insects.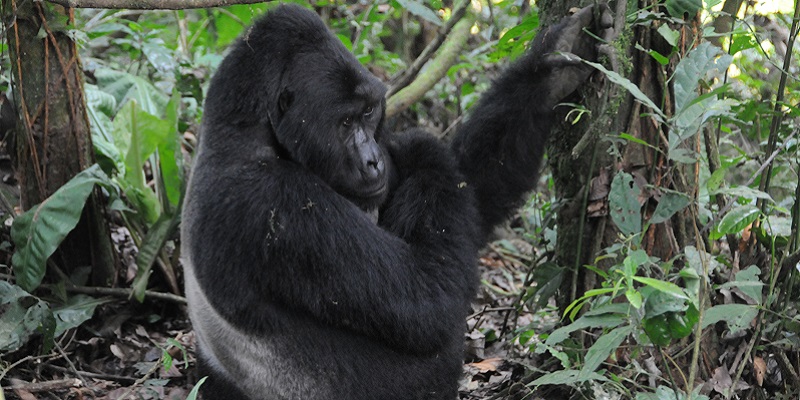 Mountain Gorillas(Gorilla beringei beringei) are one of the primate species located in Virunga Conservation area. Other primates include Golden Monkeys, L'Hoest Monkey, Colobus, Baboons and many more. Of all the primates in the these mountains, the gorilla stands out to be the largest and most gentle.
The gorillas live in groups of families with silver backs and female and According to Wikipedia, "The mountain gorilla is highly social, and lives in relatively stable, cohesive groups held together by long-term bonds between adult males and females. Relationships among females are relatively weak.
These groups are non-territorial; the Silverback generally defends his group rather than his territory."
Mountain Gorilla life span is 40-50 years.
Your 2 Days gorilla trekking safari in Rwanda will allow you to fly in for a lifetime opportunity to get close to these massive but gentle animals that live in a communal family led by the dominant silverback. The Volcanoes national park is located north of Rwanda in Musanze District 115 km from Kigali (about 2 hours drive). Enjoy this Gorilla trekking safari as you go deep in the jungles of the park in search of these gentle wild creatures of the mountains. Unfortunately, however much the encounter with the gorillas on the safari is so much exciting and unstoppable, you are only permitted and restricted to spend up to one hour with gorillas. Let's look at the highlights of this gorilla safari.
Tour Highlights on this 2 Days Gorilla Trekking Safari
Large crop Plantations and Beautiful views of hills.
Gorilla trekking in volcanoes national park.
Cultural Tour.
Golden monkey, elephants etc on a lucky day.
Safari Itinerary Details
Day 1: Transfer to Volcanoes National Park
On arrival our guide/driver will pick you from your hotel/lodge in Kigali to start on the journey north of Kigali. However before embarking on the journey north, you will have a detour of Kigali city. Here you will have a tour of the Genocide memorial, community markets and a tour of the city.
Then we start on our journey to Volcanoes national park in Ruhengeri as the Our Guide tells you more about Gorilla trekking and what to expect. Along the way you will be amazed by the beautiful hills and Virunga mountains as they can be seen in the vicinity.
We will a tour of Iby'wachu Village which is very interesting.
On arrival You check in the lodge and rest for the Gorilla trek the next day.
Meal plan; L. D.
Day 2: Mountain Gorilla Trekking in Volcanoes National Park
This is the Gorilla trekking day!. We drive to the park headquarters for briefing and gorilla group a location, here you enjoy tea or coffee as your guide works with registration and group. A traditional performance entertainment is good to jump start your Gorilla adventure. We then drive to the trekking starting point.
Trekking starts and the duration of the trek depends on the location of the Gorillas, however the trek can take between 1-8 hours. Upon meeting the gentle giants, enjoy another hour with the Gorillas before trekking back. We Say bye to the Volcanoes national park and drive back to Kigali yet having another scenic journey of a thousand hills.
Meal plan. B.L.
End of Safari.