The 2 Days Rwanda Cultural Tour Experience is a special safari package that rewards your enthusiasm with a great insight into the Rwanda local culture that will enable you to learn and understand the lifestyle and cultural heritage of the local people of Rwanda. Enquire Now On this 2 Days Rwanda cultural tour, you will have a chance to interact with the locals in the cultural villages you will visit while taking part in some of the cultural activities, touring the community projects in Rwanda where many people find livelihood and sustainability of their lives. Do not miss an exhilarating opportunity to visit Iby'Iwacu Cultural Village, Nyamirambo Women's Center to have a deeper insight into the culture, history, and daily life of the Rwandan community.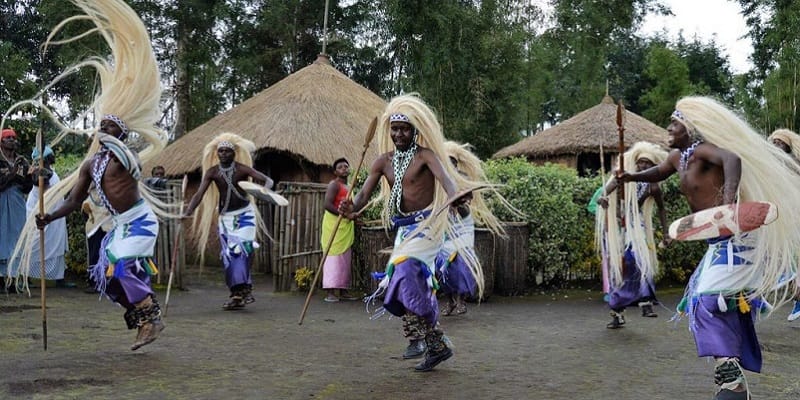 Tour Highlights on this 2 Days Rwanda Cultural Tour Experience
Iby'Iwacu Cultural Village.
Nyamirabo Women Center.
Kigali City Tour Experience.
Tour Itinerary
Day 1: Transfer to Iby'Iwacu Cultural Village
Upon arrival in Rwanda, you will picked by a driver-guide from Silverback gorilla tours for a transfer journey to Nyabigoma, Kinigi, Musanze district, located north of Rwanda. The journey time will be only 2.5 hours from Kigali City. Along the way to the Iby'Iwacu cultural village, you will enjoy the lovely beauty of the unwinding landscape of the Rwanda countryside that justifies why Rwanda is called the land "a thousand hills". In a short time, you will be in the hearts of Iby' Iwacu cultural village, a beautiful project employing and empowering the community and providing alternatives from poaching.
Upon reaching here, you will be assigned to one of the local guides who will take you through an insight into the cultural history of Rwanda. While with your guide, expect to visit the local huts, have a delicious taste of the local brew, marriage ceremony, storytelling, and rap it with hilarious, fantastic dancers and drummers, who will showcase their traditional dance before you, and you can join. Lunch will be enjoyed in this very community with a sumptuous taste of the local food. Later in the afternoon, drive back to Kigali for your overnight. Meal plan – Lunch & Dinner.
Day 2: Visit The Nyamirambo Women's Center
After your delicious breakfast, you will start your last day of this trip with a transfer to Nyamirambo Women's Center to have a visit at the cultural center where you will have hands-on Sisal Basket Weaving Workshop, walk tour around, and Traditional Cooking Class with Aminatha. You will also visit the art and craft gallery where you will have a chance to purchase traditional African costumes. In the later afternoon, you will be transferred to your booked accommodation or airport for your flight. End of your Rwanda cultural tour with Silverback gorilla tours!