This 2 Days Akagera Wildlife Safari in Rwanda will take you for an exhilarating game drive experience in Akagera National Park located East of Rwanda in a journey drive of about 2-3 hours from Kigali City Center/ Airport.
Enquire Now Akagera National Park is Rwanda's biggest and only wildlife sanctuary blessed with amazing wildlife species such as the Buffaloes, Baboons, Zebras, Impalas, The Black Rhinos, giraffes, lions and just so much more to experience. Do not miss an exciting boat ride along Lake Ihema after a game drive experience on this 2 Days Akagera Wildlife Safari.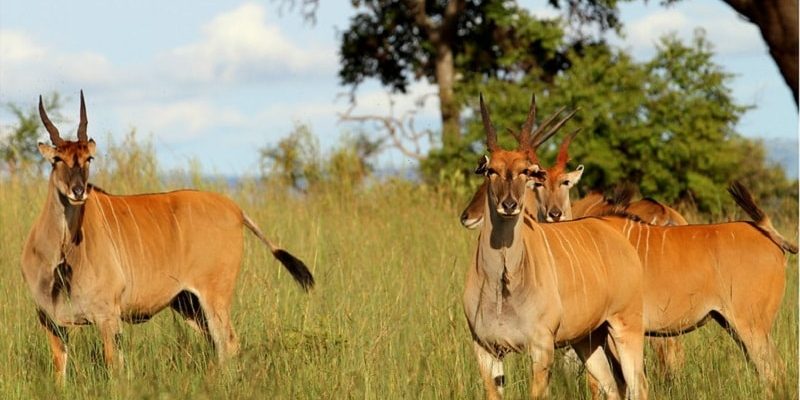 Tour Highlights on this Wildlife Safari in Rwanda
Rwanda Scenic Landscape drive
Afternoon Game Drive and Boat Ride along Lake Ihema
Morning Game Drive Experience in Akagera National Park
Kigali City Tour Experience
2 Days Akagera Wildlife Safari In Rwanda Tour Itinerary
Day 1: Transfer to Akagera National Park, Game Drive & Evening Boat Ride
At 8:00 am in the morning, you will depart Kigali City (from your residence or hotel) to embark on a scenic journey drive to Akagera National Park with amazing views of the "a Thousand Hills of Rwanda". The journey to Akagera national park takes about 2-3 hours depending on the stopovers along the way. Upon arrival, we shall check-in at the hotel/lodge for accommodation before a short game drive experience in the park and later an evening boat ride on Lake Ihema where we will watch the mighty Hippos and crocodiles in the water or by the shores. Meal plan – Lunch & Dinner. Accommodation: Upmarket Plan – Ruzizi tented camp, Mid-range – Akagera game lodge.
Day 2: Early Morning Game Drive, Transfer to Kigali City
After an early breakfast at the lodge of stay, prepare for an enchanting wildlife safari experience deeper in the park crossing the mutumba hill that overlooks Tanzania to the East. Here, you will have the most exhilarating animal sightings as more feedings take place there. You will be able to see the big five African wildlife safari mammals; Elephants, Giraffes, Buffaloes, Lions, Rhinos and several Antelope species. Akagera National Park is a varied habitat for wildlife and a birders haven with over 500 bird species in the park.
After the game drive, we shall head back to the lodge to prepare ourself for a journey back to Kigali, and immediately after having your delicious lunch meal, you will leave for to Kigali where you will take a brief tour of Kigali City, Africa,s cleanest city before our driver dropping you off at the airport for an outbound flight. This will mark the end of your 2 Days Akagera Wildlife Safari. Meal plan – Breakfast & Lunch.