This 1 Day Rwanda Gorilla tour package is the most preferred gorilla trekking safari and the cheapest to take on if you have a fixed time budget but still anxious to have a short time with the mountain gorillas in the Volcanoes National Park. Enquire Now This unforgettable Rwanda Gorilla Tour begins at 5:00 am in Kigali with an early morning drive to arrive at the park headquarters in Ruhengeri for the pre-gorilla trekking preparations and briefing by the ranger guides.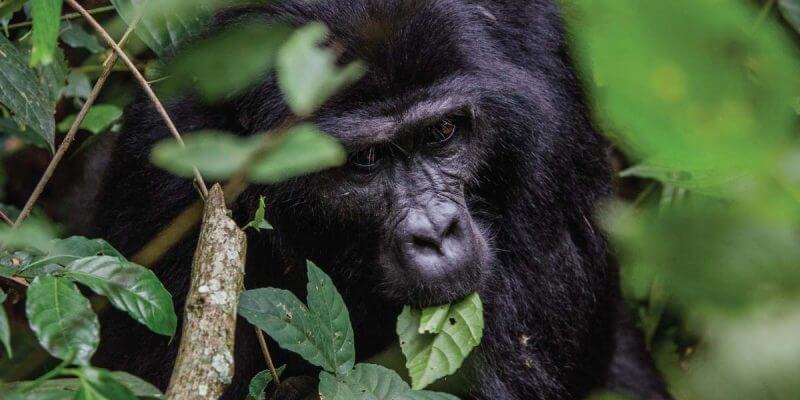 Full Day Itinerary for the Rwanda Gorilla Trekking Safari
Your 1 Day Rwanda Gorilla Trekking Tour will start from Kigali City as early as 4:30 am to have breakfast and get yourself ready for the journey to Ruhengeri (Musanze) district where we arrive at the park headquarters for the briefing from the officials and ranger guides about the gorilla trekking Dos and Don'ts, the gorilla family you will visit on the day, and how long it may take to find that particular group.
After the basics of gorilla trekking, you will be divided into groups of eight each with a given gorilla family to visit. Remember. in Rwanda, there are 10 gorilla families which can be visited for gorilla trekking encounters. The allocation of the gorilla group you will visit largely depends on your trekking ability ranging from the medium, simple and hard trek. You are advised to be realistic with your fitness and health to pick the right trek which will not overstrain you.
On a typical day, gorilla trek usually lasts between 30 minutes to 6 hours depending on which family you are assigned to visit. When you meet the gorillas, you will have the most thrilling experience as you encounter the Mountain gorillas, watch them play, guard their young ones, and you ponder on their human-like intelligence. After an hour with the gorillas, you will drive back to the hotel for lunch and then get back to Kigali for your outbound flight departure.
Your 1 Day Rwanda Gorilla Trekking Safari includes:
Lunch & Soft Drinks.
Park entrance fees.
A Rwanda Gorilla permit costing USD1500 (Reserved in advance at 1500 USD).
Services of an English speaking guide.
Ground transportation in a 4×4 Safari Car.
Pick up and drop off at your respective Destinations.
This Gorilla Trekking safari excludes;
Transportation to Rwanda, Visas, Accommodation, cigarettes and private expenses not listed within the program.